don carlos corcho aka dj chang
_bio _musica/downloads _charts _playdates _galleria/fotos _links _contact _journals _guestbook
Journals
September 2003_played at dj Ruben Mancia's Devotion in San Francisco awesome vibe as always opened up for Jay Sinister & a mind blowing party for Deep Groove Society in Arcata, California for dj Christian Clark's(livedjs.com) b-day party!
October 2003_played the Cajones party in San Francisco for Moody Eva & Cameron, did the Holy Frijoles thing in Orlando with Atnarko Bear, went to my old stomping grounds in Gainesville for Simons and hung out with dj Boyd afterwards at his place, spun a lil for dj Muggle's night with dj Matty in Tampa on a Monday night, drove back to Miami, and then jumped on a plane to go play with Rob Paine(Worship Recordings/Solomonic Sound) in Jamaica for my boys Charles & Kwame! Oh I also got to hang in Miami for a bit with Joe Budious(Aquabooty) over at The Marlin. Where I spun some tunes there for the bar and checked out his Halloween Bash with DHM over at his warehouse space in tha hood! jajajajajajaja! Oh by the way they would not let me in Rumi though I was invited by the resident dj there to come by, some things on the beach stay the same. Oh did I mention to say I will be staying in Miami when I get back to the States.
November 2003_left to play in the Kingdom Of Bahrain; stopped in Koln, Germany for three days on the way there. Germany rocks! Very advanced infrastructure and cool people, got to eat some Turkish sandwiches while there. Had some really good German beer, and went out to this retro 80's club. A couple of nice looking girls, but not too many people speak English in this country. Hey any country that has bottled water quality coming out of the tap is cool to me! Oh i also love the German breakfast, very light and healthy! Missed my flight out to Bahrain from Frankfurt, because I was overwieght on account of the records I was carrying. Stayed the night at a local hotel and had to leave half of my records behind so I could get on the plane the next day. The party in Bahrain was cool, held at this afterhour place called The Country Club, which is in a resort on the outskirts.
December 2003_helped bring out dj TJ Hicks(Minimal Soul) to Bahrain for the first Analogue Soul event. Mazen put this together with sponsorship from Power Horse Energy drink over at The Summerland Hotel. Turnout was not as big as expected not too mention the Hotel decides to charge alot more for drinks than what they agreed upon on the beginning. Nevertheless we followed the night with an afterhour over at The Country Club, which was alot more packed and full of energy than the earlier event, figure that! Thanks for Tj for coming out and playing his techno house groove to the heads out here, only next time catch your flight on time! jajajaja..
New Years Eve 2004_played at Asia De Blanc a plush Asian Restaurant/Bar/Lounge for the heads, decent turnout, good vibe. Also got a live interview on Radio Bahrain giving props out to 3 Degrees! For transcript of interview click here!
January 2004 - ?_playing various events/parties in The Kingdom Of Bahrain like afterhours at The Country Club, La Terrase, Marina Club Beach parties, villas, pool parties, BBQ's, etc..
February 26, 2004_dj Lea Lisa(Soulstice Entertainment/Bliss_France) arrives to share her soulful house bliss for the 2nd Analogue Soul Event. The French are in the house to show their support with the locals, Viva Francia! The following day she plays at the Marina Club for Damien's outdoor party by the beach and pool to a up for it crowd! She leaves impressed by the hospitality and good people she met on her visit
March, 2004_this whole month I got to play at several Beach parties over at The Marina in Bahrain. These events were put together by dj Damien, who is the resident at the local club BJs. Nice turnout of people with a great Arabic style BBQ and bar.
April 2004_Grand Prix week starts in Bahrain for the first time in the Gulf Area, turnout is very low. Just like I expected as it is with these kind of events when they descend in an area with poor infrastructure and organization. Went to hear the legendary Danny Rampling at The Marlboro/Ferrari Team Party outdoors ala Rave style. The only good thing about this event were the dancing girls that flew in from Dubai! jajajajajajaja!
Late April, 2004_La Terasse, local rooftop bar and French Restaurant in Bahrain gets trashed by local Shiate hooligans, ends up in the closing down of the establishment. Supposedly their justification was that the place was a disgrace to their neighborhood because men & women were in there drinking alchohol with loud music. So in the eyes of Allah(aka God/The Man Upstairs/Jah/etc.) it is justified to destroy the place and attack the patrons while dining with knives and clubs!
May, 2004_the afterhours continue at Country Club, only to be disrupted by some rowdy Saudi's that don't know how to handle themselves around women. Ends up in a cracked skull outside, ouccch! Which brings the local Policia's attention, no bueno..
June 17, 2004_Analogue Soul party at Novotel Hotel Resort in Bahrain. Wierd night and space!
July 7, 2004_did the Mondo Lounge at The Diplomat Hotel in Bahrain for 2 weeks playing lounge stuff in ths Italian fusion restaurant/bar. Fuckers still owe us half of our fee!
July 15, 2004_Likwid Nightclub in Bahrain. Great turnout for the first Analogue Soul night there with dj Mazen also on the decks that night. Followed
by a crazy afterhour that got us kicked out of the flat we were staying in! Thanks to the rowdy French men wrestling in the street outside the apartment!
August, 2004_Moved into new place with Mazen, an old two story house split into an upstairs and downstairs apartment. Needs alot of work, but since his Dad gave him the building Mazen does not have to pay rent. He plans to renovate the downstairs and rent it out to a friend to pay off the contractors for fixing up the building. The place has potential for some crazy and creative times ahead!
September, 2004_played at dj Damien's X-posure Beach party at the Marina Club, nice turnout! I also got a video interview for thier future dvd on the
event coming out soon. Loads of local djs played September through December outside under the stars by the beach with bbq and full on bar!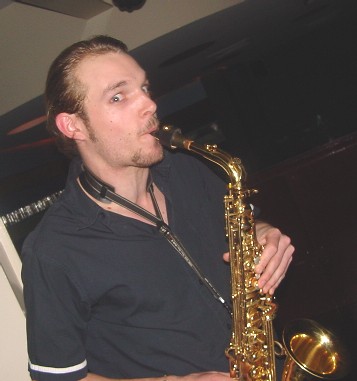 November, 2004_Start a new Tuesday night st Likwid called Aquasol, with myself and Phillippe playing live sax while I play records throughout the night. Bringing a live element to the mix as I play a variety of music from soulful house, 70/80's classics, electro, to some tribal percussive progressive tunes at the end!
December, 2004_The madness continues at Mazen's afterhours, some things never change, its all just a new dress! Jajajajajaja.. What a way to start the new year! Jajajajajaja..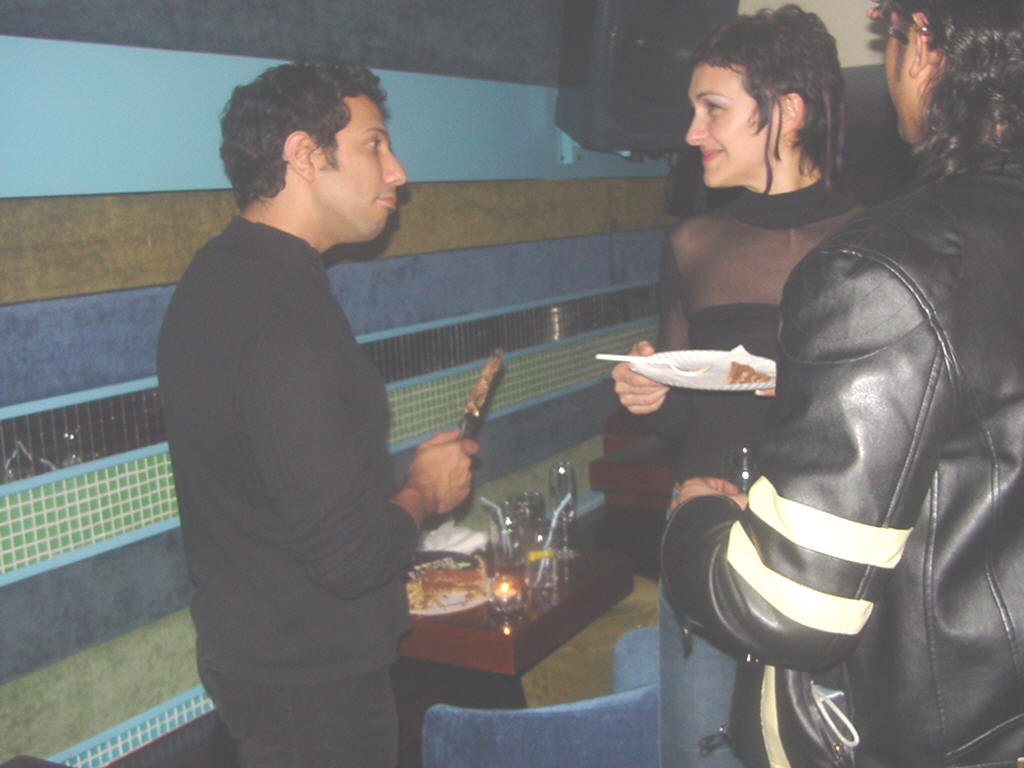 January 18, 2005_Had a great blast at Aquasol since Mazen and the crew showed up for his birthday that night, lots of fun times. Of course the party continued afterwards at the apartment, madness! Also the new year sees the return of afterhours at The Country Club with great turnouts and more sound and lights till the morning hours.
January 27, 2005_It's my 18th birthday(yeah right!), i mean 38th , yippee! Thats right I'm an Aquarius and a Goat in Chinese zodiac. Had to work that
night over at Sherlock, so some friends came by to support! Then our friend EB opens up his afterhours place for us to continue the festivities into the morning hours. As always it ends up back at Mazen's were we continue the fun & froliks with our close friends..