biography
places played at
fliers
discography

musica
charts
mixsets
schedule
Title 4

gallery
old school fotos
bahrain 2003-2005
new school fotos
Title 4
Title 5

links
guestbook
blog
contact
radio interview
Title 5
Title 6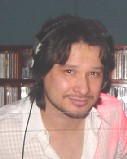 Discography
Chang & Amit Shoham "Island Dreams" Care Recordings (2003)
Chang "The Yellow Sun" Swanky Records (1997)
Tofu Joint(Jask & Chang) "Music Makes Me High" Erotic City Communications (1997)
PRESS REVIEWS
Care 002 "Island Dreams" Amit Shoham & dj Chang_click here to buy it at Beat Port!
DJ REVIEWS AND CHART LISTINGS:
Grant Dell (Tribulation / Various) - #4
Toka (Bosh Records) - #5 "Every track a winner."
Dave Congreve (The Bomb) - #8
Russell Pollitt (Keep On Magazine) - #8 "Infectious deep house with tasty guitar riffs."
Silicon Soul (Soma) - #11
Murray Richardson (20:20 Vision / Rebel Waltz) - #12
LHK (Various Worldwide) - #12
Harri (Sub Club) - #13
Garth (Wicked / Greyhound) - "Nice piece of soul without the cheese."
DJ Magazine, November 2003(review by Dan Irwin):
"Don't know where Amit Shoham and DJ Chang are from, but from the sound of "Island Dreams", I'm guessing it's somewhere hot. This is one of those deep house records that takes awhile to get going, but let the busy percussion, live guitars, and whispered Latino vocals wash over you and they will conjure up a feeling of sultry nights on beach side dancefloors very nicely. The 'Libre Mix' jacks the energy levels up a notch or two while keeping the dub flavors of the original intact. Also listen for a wicked little bass loop and a very clever breakbeat led breakdown."