biography
places played at
fliers
discography

musica
charts
mixsets
schedule


gallery
old school fotos
bahrain 2003-2005
new school fotos


links
guestbook
blog
contact
radio interview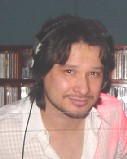 Carlos known to many as Dj Chang was born in Manhattan, NY to a Cuban family and it was through his family that he was introduced to Latin Afro rhythms and Disco at an early age.
He is best known for his six-year residency at Simons(FL.) from 1993-2000, where he played with a multitude of djs like Tony Humphries, Little Louie Vega, Mark Farina, Derrick Carter, DJ Garth, King Britt, Josh Wink, John Digweed, dj Pierre, Todd Terry, Green Velvet, Felix Da Housecat, Swayzak, Terry Francis, Heather, Doc Martin, Laurent Garnier, Ritchie Hawtin, John Aquaviva, Dubtribe, Deep Dish, Danny Tenaglia.. This lead to numerous gigs at the Harvest Fest(Gainesville), Zen Festival(Orlando), Hyde Park Café(Tampa), The Firestone(Orlando), The Abyss(Orlando), Crobar(Miami), Zentra(Chicago), Bar B(Santa Fe), Aquabooty(Miami), Club Blue(Miami), Fuel(Miami), People Lounge(Miami), Winter Music Conference(Miami Beach) to far off places like Toronto/Canada, Kingston/Jamaica, Ocho Rios/Jamaica, Treasure Beach/Jamaica, Nassau/Bahamas..
During this time Chang started his own underground House Music zine called E.909St., which featured articles on Florida's club scene; and interviews with various local and international djs.
In search of adventure he moved & took up a residency in the ski resort town of Park City, Utah. Here is where he was found playing from 2000-2002 at Club Creation, he also played at various film parties during Robert Redford's Sundance Film Festival. Most notably the official New Line Cinema's party for Hedwig & The Angry Inch, that was attended by celebrities Angelina Jolie, Samuel Jackson, Mariah Carey.. & Miramax's Human Traffic party featuring Ritchie Hawtin & King Britt.
Fed up with mountain life Chang moved to San Francisco(2002-2003), where he produced a Dance Music TV show on San Francisco's Public Access by the name of "House Nation," which featured interviews and music videos from local & international djs/dance music producers.
There he also started up a freeform (house/techno/electro /funk/classics) night of music called Deep South with TJ Hicks(Minimal Soul) on arrival. This lead to another weekly called Ebb N Flow where with fellow Simons' resident Sean Ferguson they developed a night of eclectic music in a plush gallery. Carlos also played around the city in hot spots like: The Top; The End Up; Kit Kat; Lingba Lounge; Live Djs.com; Peacock Lounge; SF Vibe; Devotion – where he worked as Director of Promotions for Ruben Mancias' & Eric Baca's Devotion Records.
On the production tip Chang got together with DJ/Producer DJ Jask (Soulfuric Records) to release his first record release "Music Takes Me High," which was put out on Erotic City Records in 98. This lead to his second release on Swanky Records called "The Yellow Sun" in 97, which also featured Jask's first remix. Currently he has a release out on Care Recordings with Amit Shoham (Tarantic Records) called "Island Dreams," which features a remix by DJ Adnan.
In the states he has played at various venues & nights such as Jack's House with DJ Jask (Tampa, FL), 3 Degrees at Zentra (Chicago, IL), Devotion at The End Up (San Francisco, CA), Aquabooty at Rain (Miami Beach, FL), The Firestone (Orlando, FL), Kit Kat at The End Up (San Francisco, CA), Bar B at The Paramount (Santa Fe, NM), Juicy at The Crobar (Miami Beach, FL), Sno-Drift (San Francisco, CA), Zen Festival (Orlando, FL), Holy Frijoles(Orlando, FL.)..
Currently Chang has been playing & producing events in Bahrain with Right Directions & Analogue Soul, the latest being the succesful roof top pool parties at The Mercure Hotel. Plus he is a resident at Asia Lounge, with live sax player Philippe Van Wiele(Belgium), and is guest djing in various places around the world.
Carlos/dj Chang is best admired by his fans for his eclectic selection of music. A blend that consists of Soulful House, Techno, Minimal, Electro, Afro-Latin grooves, and Classics. It is this passion for various sounds and rhythms that keeps the dancefloors alive and full of anticipation when he is in the mix.
For bookings contact Carlos: djchang@zensearch.com